Immigrant Achievement Awards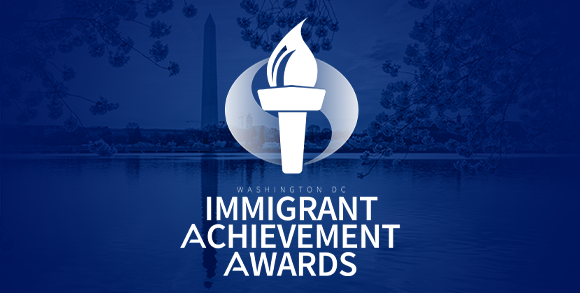 Date: Friday, April 28, 2023
Time: 6:00 - 8:00 PM ET
Location: The Schuyler at the Hamilton Hotel; 1001 14th Street NW; Washington, DC 20005
Come support the American Immigration Council and our vision for a fair and just immigration system. Network, experience unique art activations from featured local immigrant artists, and hear from powerful speakers over cocktails and appetizers.

For more than 16 years, the Council has bestowed the Immigrant Achievement Award to outstanding individuals or organizations who exhibit a commitment and dedication to our heritage as a nation of immigrants. This year, we will honor Pennsylvania State University President Neeli Bendapudi, Ph.D. Dr. Bendapudi made history as the first woman and the first person of color to serve as Penn State's president.

More information, including program updates, will be released closer to the event.
All proceeds support our mission of promoting fair immigration laws and policies.
Ticket Information
| Ticket Level | Price |
| --- | --- |
| Ticket | $125 |
Honoree
Neeli Bendapudi was appointed Penn State's nineteenth president in 2022. She oversees the University's modern land-grant mission of teaching, research, and public service across twenty-four campuses and the online Penn State World Campus.
Sponsorship Information
Join the Council as a Social Partner with premier visibility and access to the immigration attorney and policy community through three exciting events in 2023.
Sponsorship packages include combined privileges for our cornerstone events: the Immigrant Achievement Award (April) and our Annual Awards Event (June). Our Title sponsors also have a very special sole sponsor opportunity for one of our private donor events.
Here's what you get:
Title Sponsor - $100,000
Sole sponsorship of one American Immigration Council Donor Event
Combined sponsorship of Council spring and summer awards events
Dedicated recognition as a Title Sponsor and Social Partner on event slides
Logo recognition in printed or digital event materials
Logo on Council event website and marketing emails
Recognition as a social partner on Council social media platforms
Half-page ad in the Annual Awards (June) program – with QR Code
Two (2) tables at the Annual Awards (June)
Ten (10) tickets to the IAA (April)
Two to Six (2-6) tickets to a private donor event (depending on event size)
Verbal acknowledgement during event speaking programs
Four (4) Annual Awards VIP reception tickets with special recognition during this exclusive event
Champion Sponsor - $50,000
Combined sponsorship of Council spring and summer awards events
Dedicated recognition as a Champion Sponsor and Social Partner on event slides
Logo recognition in printed or digital event materials
Logo on Council event website and marketing emails
Recognition as a social partner on Council social media platforms
Half-page ad in the Annual Awards (June) program – with QR Code
One (1) table at the Annual Awards (June)
Eight (8) tickets to the DCIAA
Verbal acknowledgement during event speaking programs
Two (2) AHA VIP reception tickets with special recognition during this exclusive event
Benefactor Sponsor - $25,000
Combined sponsorship of Council spring and summer awards events
Listing as a Benefactor Sponsor and Social Partner on event slides
Listing as a sponsor in printed or digital event materials
Quarter-page ad in the Annual Awards (June) program – with QR Code
Digital recognition with company name listed on Council event website
Eight (8) seats located near each other at the Annual Awards (June)
Four (4) tickets to the IAA (April)
Two (2) Annual Awards VIP reception tickets
Patron - $10,000
Combined sponsorship of Council Spring and Summer awards events
Listing as a Patron Sponsor and Social Partner on event slides
Listing as a sponsor in printed or digital event materials
Digital recognition with company name listed on Council event website
Four (4) seats located near each other at the Annual Awards (June)
Two (2) tickets to the IAA (April)
One (1) Annual Awards VIP reception ticket