Rising Border Encounters in 2021: An Overview and Analysis
Three years after the nation turned its attention to the Trump administration's treatment of children and families arriving at the U.S.-Mexico border, the nation's attention once again turned to the government's actions at the border in early 2021. Although much focus was paid to the arrival of families and unaccompanied children, the headlines about "the highest border encounters in 20 years" are the result of trends among an entirely different group—single adults—who have been responsible for two-thirds of all border apprehensions in 2021 through March.
For generations, the United States has seen periodic cycles of migration. There have also been multiple extraordinary migration events that have led more families and children to seek asylum. While much of the national conversation in early 2021 focused on a supposed surge in arrivals under the Biden administration, the roots of trends began months—and in some cases years—before President Biden took office. The government can and should view the arrival of high numbers of asylum seekers as a humanitarian protection management challenge, not a security challenge.
Historical Background
For nearly a 35-year period beginning in the mid-1970s, the Border Patrol routinely apprehended at least 1,000,000 migrants a year—primarily Mexican single adults—who were seeking a better life in the United States. Seasonal migration patterns led to spikes in apprehensions each spring. For example, from December 1999 to March 2000, apprehensions rose from 71,252 to 220,063. During each of these spikes, many apprehensions were of the same individuals crossing the border multiple times and being sent back to Mexico under a practice known as "voluntary returns."
Despite the high number of apprehensions, until recently most people crossing the border were able to do so without being apprehended. The U.S. Department of Homeland Security (DHS) estimates that Fiscal Year (FY) 2012 was the first time the Border Patrol apprehended a majority of people crossing the border. Thus, in FY 2000, when the Border Patrol recorded 1.7 million apprehensions, DHS estimates that there were an additional 2.1 million successful unlawful entries. As a result, direct comparisons between apprehension numbers in recent years and those occurring decades ago miss a key fact; it is significantly harder to cross the border without detection and apprehension today than it was just a decade ago.
After the Great Recession in 2007-2008, migration from Mexico declined sharply, falling from 1,089,092 apprehensions in FY 2006 to 340,252 apprehensions in FY 2011. Around the same time, the number of Border Patrol agents increased dramatically under the Bush administration, from 11,264 in FY 2005 to 21,444 in FY 2011. The combination of reduced economic demand and increased immigration enforcement led to a significant reduction in the number of single adults coming to the border—a trend which lasted for the next decade.
However, the United States began encountering a new phenomenon beginning in 2014 with the arrival of tens of thousands of unaccompanied children and families seeking asylum in the United States. By law, individuals can only seek asylum once they are physically present in the United States or when they are arriving at a port of entry. Asylum seekers and unaccompanied children generally turn themselves in to the Border Patrol immediately on crossing the border and ask to access the asylum process. Even when asylum seekers voluntarily turn themselves in to the Border Patrol, they are still recorded as having been "apprehended."
Both the Obama and Trump administration attempted without success to deter people from seeking protection, from the former's expansion of family detention through the latter's family separation policy. But these policies have not had any meaningful long-term effect despite the tremendous hardship they have created for many families and children. For example, the number of families and children encountered at the southern border peaked in FY 2019, despite the family separation policy the previous year, when the Border Patrol apprehended a total of 549,702 parents and children at the border seeking protection.
While the spike of arrivals in FY 2019 did not bring border apprehensions near the levels of the 1980s through early 2000s (see Figure 1), families and children posed a unique processing challenge for the government as contrasted with single adults. Nevertheless, the number of single adults encountered at the border in 2019 remained relatively low in comparison to the previous decade.
Some policies imposed at the border to limit asylum seekers also encouraged them to cross between ports of entry. Before the COVID-19 pandemic, tens of thousands of people intending to seek asylum were waiting in Mexico thanks to a practice known as "metering" where CBP limits the number of people who can ask for asylum each day at a port of entry.
By February 2020, there were an estimated 15,000 people waiting for the chance to begin the asylum process in cities across the U.S.-Mexico border, some of whom had been waiting for years. The Department of Homeland Security's Office of Inspector General determined in 2020 that metering caused some people to cross the border and turn themselves in rather than wait for unknown periods of times in Mexico for a chance to begin the asylum process through a port of entry.
Border Apprehensions Begin Rising Again in Spring 2020
In spring 2020, COVID-19-related lockdowns spread economic chaos across Mexico and Latin America. At the same time, the United States shut its borders to all asylum seekers and President Trump instituted the practice of expelling individuals encountered at the border under public health authority allegedly provided by Title 42 of the U.S. Code. Under Title 42, any single adult or family crossing the border from Mexico, Guatemala, Honduras, or El Salvador were immediately sent back to Mexico without a deportation order, even if they were seeking asylum.
Unaccompanied children and most individuals from countries other than Mexico, Guatemala, Honduras, and El Salvador were taken into custody, held for days or weeks, and then deported by plane back to their home country. In total, more than 13,000 unaccompanied children were expelled under Title 42 until a federal judge ordered the Trump administration to stop the practice on November 18, 2020, declaring it a violation of immigration law.
At the same time as Title 42 went into place, the Trump administration eliminated access to asylum at the ports of entry. That left tens of thousands of people on metering lists stranded in Mexico. Those waiting in Mexico to seek protection were left with no option but to remain waiting and hope the border would reopen at some unknown point in the future.  
The COVID-19 pandemic also led the Trump administration to suspend court hearings for 25,000 migrants sent back to Mexico under the so-called "Migrant Protection Protocols" (also known as the Remain in Mexico Program).  Subsequently, new placements into MPP were almost entirely replaced by Title 42, with just 1.19% of people encountered at the border after Title 42 went into place put into MPP before the Biden administration took office and fully suspended new enrollments in MPP on January 20, 2021.
Title 42 has not only had a severely negative effect on asylum seekers, it has also led to an increase in people crossing the border more than once, an effect acknowledged by DHS officials. Almost immediately after lockdowns lifted across Mexico and Central America, the number of single adults coming to the border seeking to enter the United States began rising rapidly, from a low of 14,754 in April 2020 to 62,041 in December 2020. Under Title 42, single adults are rapidly processed at the border and sent right back to Mexico without a deportation order. This arrangement has incentivized repeated attempted crossings, and the rate at which people crossed the border multiple times rose from 7% in March 2020 to 40% by October 2020. This increase in repeat attempts was also driven by people's inability to obtain safety while waiting at the border for the United States to begin accepting asylum requests again, and the growing backlog of people waiting for the resumption of humanitarian processing at the border.
The number of single adults apprehended at the border continued increasing after President Biden took office in January 2021. From January to March 2021, driven by seasonal migration patterns on top of the numbers from the previous year, single adult apprehensions rose from 62,560 to 96,628. In total, single adults made up 67% of all encounters during the first three months of 2021 (see Figure 2).
The Biden Administration Continues To Expel Most People
The Biden administration continues to rapidly expel most people encountered at the border. In February and March, the first two full months of the Biden administration, 65.6% of all people encountered at the border were expelled under Title 42 (see Figure 3). While unaccompanied children and some families at the border have been allowed to come into the country and challenge their deportation in immigration court, they represent just 27.6% of total apprehensions over that period. 
As a result, significantly fewer people are being admitted into the United States and placed into normal deportation proceedings when compared to 2019, even when considering the increased numbers of single adults and a record number of unaccompanied children (see Figure 4). If the Biden administration continues the practice of expelling most people arriving at the border, apprehension numbers may continue to increase above 2019 levels despite the fact that significantly fewer people are being processed into the country.
Record Apprehensions of Unaccompanied Children Continue To Pose Humanitarian Processing Challenges
Under U.S. law, an "unaccompanied child" is defined as a person under the age of 18 who arrives at the border without a parent or a formal legal guardian; meaning even a child who arrives at the border with another family member such as an aunt, uncle, or grandparent is still "unaccompanied" by law. Unaccompanied children from countries other than Mexico and Canada qualify for heightened legal protections to ensure that they are not the victims of trafficking, including the right to appear before an immigration judge rather than be subject to "expedited removal" at the border.
Since 2013, there have been periodic increases in the number of unaccompanied children arriving at our border and seeking protection, including in 2014, 2016, and 2019 (see Figure 5). In 2020, due to the COVID-19 pandemic, the number of unaccompanied children apprehended at the border dropped significantly to a low of 712 in April 2020. These figures began to rise again in the summer of 2020 and increasing steadily through the fall, reaching 4,853 in December 2020. 
After President Biden took office, significantly more unaccompanied children and families began arriving at the border. When a federal appeals court lifted the order halting CBP from expelling unaccompanied children on January 29, the Biden administration chose to keep the status quo in place by issuing a new order from the Centers for Disease Control and Prevention exempting unaccompanied children from Title 42.
In March 2021, the number of unaccompanied children peaked at a record 18,890 taken into CBP custody—significantly more than the previous record of 11,861 in May 2019. This caused an enormous bottleneck to build in CBP custody because the government could not transfer them to the Office of Refugee Resettlement (ORR) fast enough.
To get children out of CBP custody, the Biden administration began opening over a dozen "emergency influx shelters" around the country, doubling ORR capacity within a matter of weeks. Unlike permanent shelters run by ORR, "emergency influx shelters" do not have to go through a state licensing process intended to ensure they are providing appropriate care for children. As a result, some have raised concern over the fact that ORR had to cut corners when erecting new facilities on short notice.
The effort of standing up more than a dozen emergency influx shelters seems to have helped reduce the population of unaccompanied children in CBP custody. The number of children in CBP custody decline from a high of 5,767 on March 28 to a low of 1,741 on April 22 (see Figure 6).
Although the Biden administration's expansion of ORR capacity helped reduce the number of children held in Border Patrol custody by mid-April, there remain concerns regarding the ability of ORR to release children to sponsors quickly enough to clear a growing backlog in ORR. According to DHS, more than 80% of unaccompanied children have a family member in the United States, and in 40% of cases that family member is a parent. However, ORR has struggled to find sufficient staff to carry out the background checks necessary to verify familial relationships and vet other sponsors, leading the Biden administration to ask for volunteers across the federal government to help process unaccompanied children. On April 21, for the first time since the Biden administration began reporting daily numbers, more unaccompanied children left U.S. custody than entered it, thanks in part to rising numbers of children released to sponsors.
While some have called for the Biden administration to resume expelling unaccompanied children, there is no evidence that Title 42 had any deterrent effect on unaccompanied children. The number of children apprehended at the border increased every month from April 2020 through November 2020, when the Trump administration was forced to stop expelling children.
The fate of the unaccompanied children entering the United States is uncertain, but data from DHS suggests that most will eventually be granted permission to remain. When considering all non-Mexican unaccompanied children—the group which is entitled to a hearing in court—who have arrived at the border since 2013, 57% of those whose cases were completed by mid-2020 were given permission to remain in the United States.
Trends for Apprehensions of Families
As with unaccompanied children, the number of families coming to the border grew slowly throughout 2020 and began increasing more rapidly in January 2021 after President Biden took office. However, unlike unaccompanied children, which reached record levels in March, the number of families apprehended at the border in 2021 remains lower than the same period in 2019.
Despite the Biden administration's stated commitment to restoring asylum at the border, DHS has continued the Trump administration practice of expelling families, with President Biden himself declaring at his first press conference that "They should all be going back [to Mexico]."
However, DHS is unable to expel most families in part because of a change in Mexican policy, not U.S. policy. Due to a Mexican law passed last year, the Mexican government has refused to accept the expulsion of some families, especially in the state of Tamaulipas which borders the Rio Grande Valley.
The Biden administration has tried to circumvent this change by flying some families apprehended in Texas to other places along the border and expelling them there, but as of March, two-thirds of families are being released into the United States. Families expelled this way describe feeling "tricked" by Border Patrol agents who told them they would be released, only to discover at the last second that they were being sent back to Mexico.
Due to the Trump and Biden administrations' policy of expelling families back to Mexico, along with both administrations' refusal to reopen the ports of entry for asylum processing, refugee camps have begun springing up across the border again in places like Tijuana and Reynosa. Human rights advocates have documented hundreds of cases of violence and criminal behavior carried out against families expelled to Mexico under Title 42.
The continued practice of expelling families has also led some parents to make the agonizing decision to send their children across the border alone, knowing their child will be safer in the United States than waiting in Mexico. This has also led to an increase in unaccompanied children crossing the border.
When considering the number of families expelled at the border, significantly fewer families are being admitted into the United States in 2021 to seek asylum than were admitted in 2019 (see Figure 7).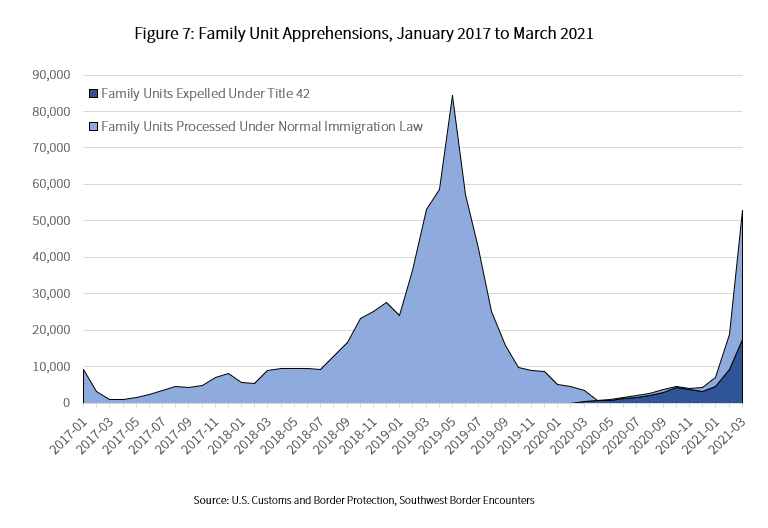 The Border Continues To Represent a Significant Humanitarian Challenge, Not a Security Challenge
Both the Obama and Trump administrations used harmful deterrence-based policies to try to prevent people from coming to the United States. Obama detained families and Trump separated families and sought to prevent asylum seekers from accessing protection in the United States by sending them into dangerous conditions in Mexico under MPP and through the institutionalized use of metering at ports of entry, as well as by issuing multiple rules designed to limit asylum eligibility.
These policies, which focused only on deterrence without providing any additional capacity to process humanitarian protections, have not worked in the long-term. They temporarily suppressed arrivals, but the push factors in home countries and drivers of migration have remained. Within a few years of each punitive policy's implementation, there was another increase in people coming to the border. What is happening under Biden is neither unique nor unprecedented.
There have been spikes in arrivals at the border in 2014, 2016, 2019, and now 2021. Even family separation in 2018 did not have a significant effect on border encounters, and the numbers of families arriving at the border in 2019 had already begun to decline before the MPP program went into full effect across the border (see Figure 8). A new spike was inevitable. The only question was when it would occur.
Years of deterrence-based policies have not produced anything but short-term declines in the number of people seeking asylum while inflicting significant harm on families and children. The solution cannot be to turn people away and send them back to harm in their home countries. As the Biden administration continues to expel families back to Mexico, it cannot be forgotten that seeking asylum is legal. Solutions to the current situation at the border should not have "reducing numbers" as their primary goal, but instead should ensure the creation of a unified humanitarian approach for all groups—whether they're single adults, families, or children.